features What's New in Version 7.4.1?

TimeControl and TimeControl Industrial version 7.4.1 are major upgrades to TimeControl 7.3 with significant new and enhanced features in both the web and Mobile App systems. HMS is proud to release this update to TimeControl 7. This is expected to be the last upgrade to the TimeControl 7 family. Aside from corrective updates, the next major releases of TimeControl is expected to be TimeControl 8.
Here is more detail on the new and enhanced features in this version:
Charge Hierarchy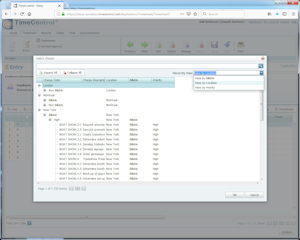 TimeControl now supports multiple methods of displaying a hierarchy of charge codes. TimeControl has long been recognized for supporting hierarchical charge structures but the new functionality takes this to a new level. You can now use customized delimiters to define each new level and if you need to change your delimiters from one type to another, TimeControl handles that too in an automated fashion. The field hierarchy also permits hierarchy to be built from the user defined fields in the Charge Table so if you wanted a breakdown by location then priority then billable vs. non-billable, TimeControl can create a multi-level hierarchy just like that. Want to see it in one way sometimes then another way other times? TimeControl has you covered there too with the ability to define multiple hierarchy structures and then change them on the fly when selecting a charge code in the timesheet.
Numerous new API methods
We have made extensive additions to the TimeControl API making it even easier to integrate TimeControl as part of an overall corporate environment. For those using TimeControl Online, this will make integrating the online system with other parts of a corporate environment much more elegant. While we were updating all the new methods, we also worked on high volume performance and capacity for those organizations with hundreds of thousands of charge codes and tens of thousands of employees.
Mobile Debit/Credit Adjustments
The TimeControl Mobile App now allows Debit/Credit update Adjustments. This allows supervisors and administrators to open a Posted timesheet and apply adjustments to that timesheet and release those adjustments to Posting.
Mobile Posted Expenses and Attachments
The TimeControl Mobile App now includes the ability to view the expenses that are attached to a posted timesheet in the past as well as any attachments that might have been associated to the timesheet or expenses.
Assignments
We have made major changes to the Assignments functionality which you will see in the Assignments Table and also in the TimeControl pre-load area. Assignments can now be made as part of a person's full time availability so one person could be put on two tasks simultaneously at 50% of their availability each. You can also now have the assignment start and finish be dates other than the charge start and stop so assignments that were meant to occur only during part of the charge can be defined that way. We've also made some changes to performance and capacity in this area as we prepare for more resource-oriented functionality in TimeControl 8!
Configuration enhancements in Administrator area
We have taken numerous elements of the TimeControl configuration and moved them from the TimeControl.INI file into the Administrator System Preferences and User Profiles functions. These features can now be controlled from within the application interface. This will make a particular difference for TimeControl Online environments where some of these features were set at the server level.
New User Profile Features
There are numerous new settings in User Profiles that allows TimeControl's configuration to be tailored to the person or group with that User Profile setting. These changes include an all-new Super-User reject feature that lets people reject timesheets even though they are not in the release-path of the timesheet source. There is also a super-user Modify feature allowing administrative or supervisory users who might not normally be able to adjust a timesheet to now change it. Of course we're keeping track of the auditable changes. You can now also change how the Timesheet List appears, allowing only a certain number of weeks in the past or future to display. Also a new Highlight feature helps when adding a timesheet by highlighting the current week or the last missing week for a new timesheet.
Control Period Create times
When creating timesheets, TimeControl allows the number of periods in the past and the future to be constrained to avoid accidentally creating a timesheet in the wrong period or in a period when Finance is not expecting it.
Copy Hours
We've never been a fan of allowing users to copy hours when copying a timesheet. The temptation to just copy all the charges and hours from a previous period then click "Release for Approval" might become enormous. But there are situations where copying the hours during a timesheet copy makes sense so we've made it possible to control who is allowed to copy hours when creating a new timesheet using the Copy Timesheet function and activated the ability to copy hours.
And...
There's so much more. We've done a lot of work on high volume capacity, improved performance, added more revision auditing, and improved usability across the application.
How to upgrade
If you have a current service agreement for TimeControl you can download the new version on the support/updates page. For more information on TimeControl 7.4.1 or our upgrade services, please fill in a contact request at email info@hms.ca or call +1 514 695-8122.
TimeControl Online users will be updated automatically in the coming weeks.