What's New in Version 7?
HMS is proud to announce the launch of TimeControl 7.0. This version contains many new features in TimeControl and numerous extended features which we believe will be advantageous to both existing and new TimeControl clients.
Here is more detail on the new and enhanced features you'll be seeing in this version:
Multi-Line Edit Timesheet
The Timesheet has been completely rewritten in TimeControl 7. In the TimeControl 6 edition, timesheet lines had to be added or edited one line at a time. Now in version 7, all lines are able to be edited simultaneously. For people who have many pre-loaded lines this will likely be a popular feature. When you are done with the entire timesheet, you can now save the whole document instead of saving lines as you go. Some changes to the timesheet have come about as a result of this including how additional timesheet line details are displayed and how you can lock the first columns of the lines.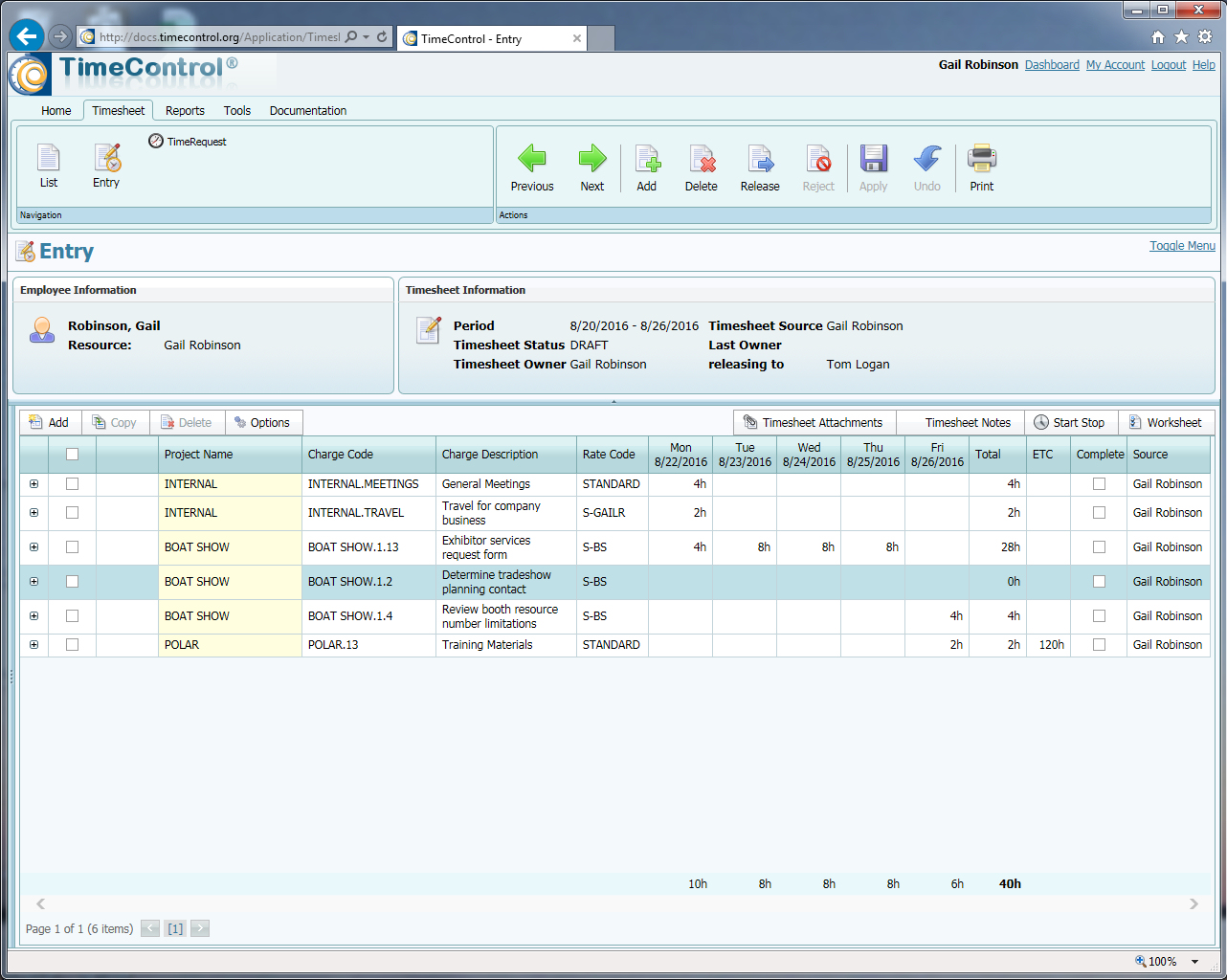 Timesheet Expense Entry options button to hide or display fields
We've added new functionality to the TimeControl Expense Entry screen to give users an Options button just like the one used in the timesheet display. Security, as always, is still controlled in User Profiles but this new functionality lets users decide within the fields made available to them what they would like to display. If, for example, they rarely use a second sales tax field, even though it is available, they can choose to hide the field.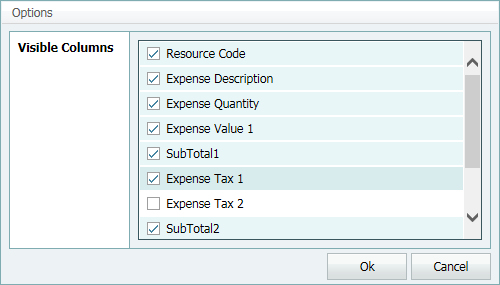 New Calendar view
An all-new Calendar view in TimeControl is available from the Reports as well as directly from within the TimeRequest function or the MyAssignments function. This new view displays any selection of TimeRequests and Assignments to which you have access. The calendar view will be of particular interest to those who approve vacation times or personal time off as they can, at a glance, see any draft, approved, requested or even rejected TimeRequests. Each category of TimeRequest can be displayed in a different color. On the same view, Assignments can also be displayed. If an end-user user has rights only to their own data then those are the only assignments and TimeRequests they will see.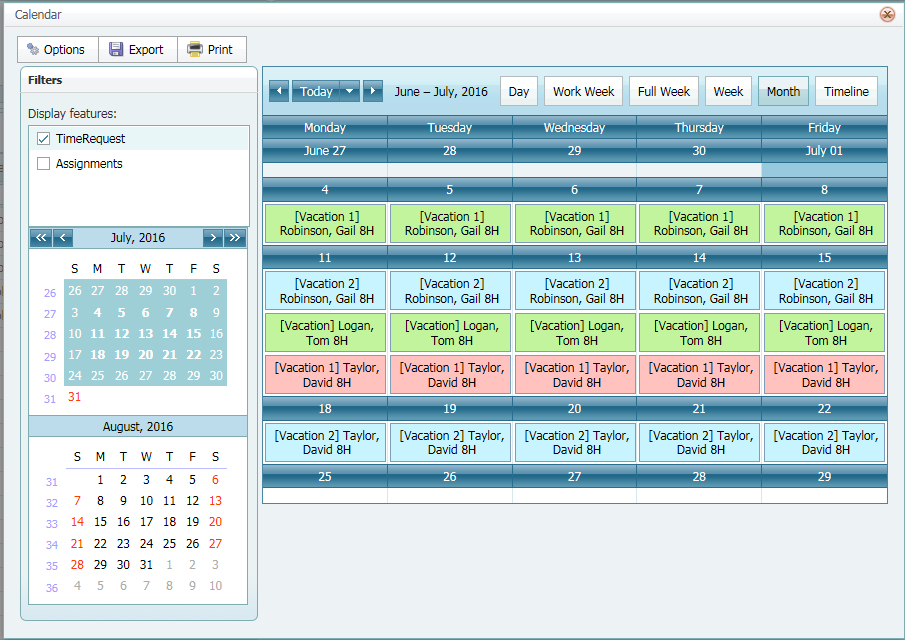 Create a GANTT chart view
A new GANTT bar chart view is available from both the Reports tab and the MyAssignments area. It can display bar chart data at the task level, the assignment level or the project level.
Clicking on the bar chart view in MyAssignments will default to a barchart view of your personal assignments. Configuration of this view can filter just like reporting can including dynamic filters which ask what data you'd like to see as the view is generated.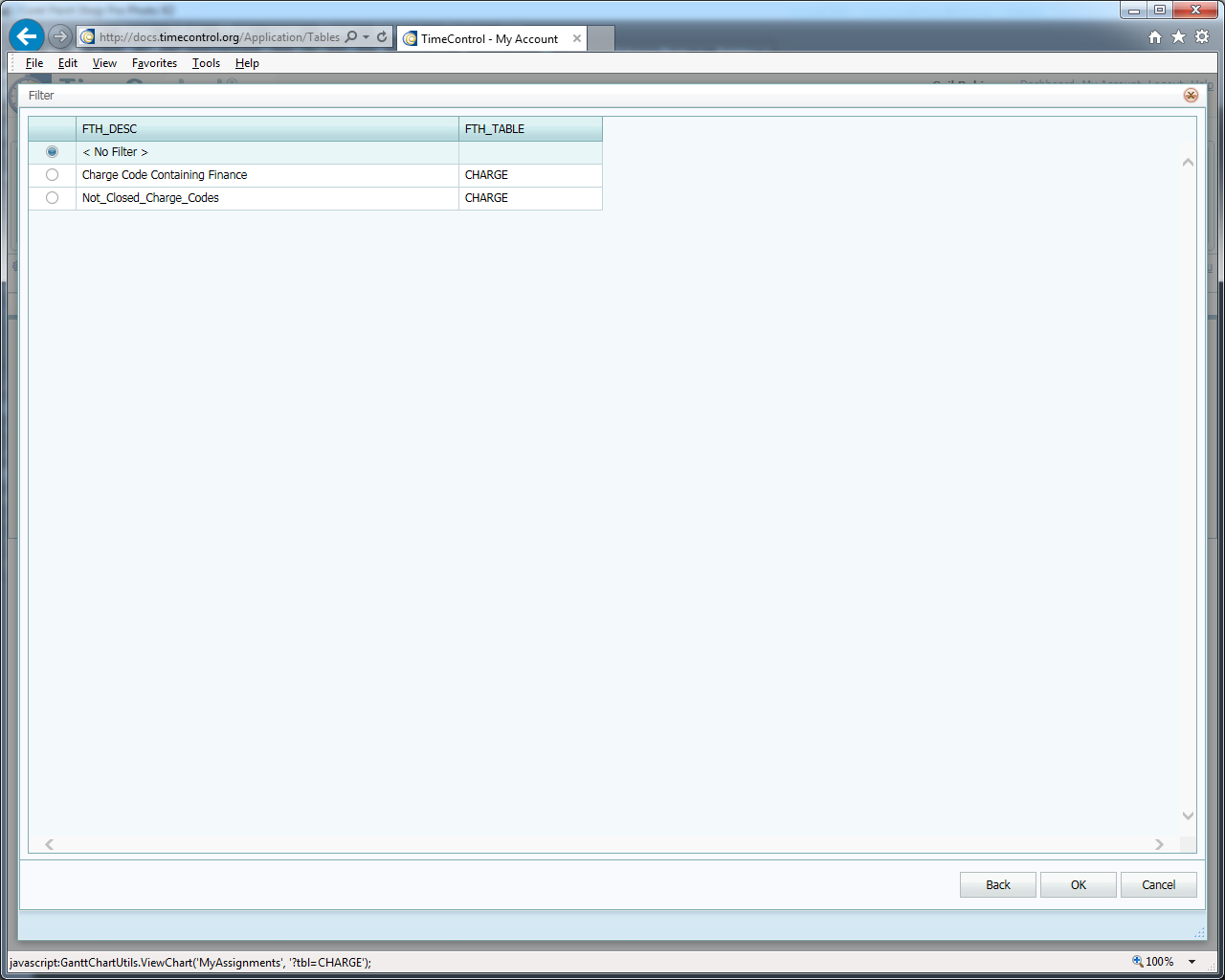 Rewritten Report Designer in .Net
The TimeControl Report Designer has been completely rewritten in TimeControl's core multi-browser, multi-device architecture. The new report designer is able to read report formats made in the Click-Once Report Designer when they are copied. The Click-Once Report Designer now joins the older FormulaOne Report Designer in the Legacy module.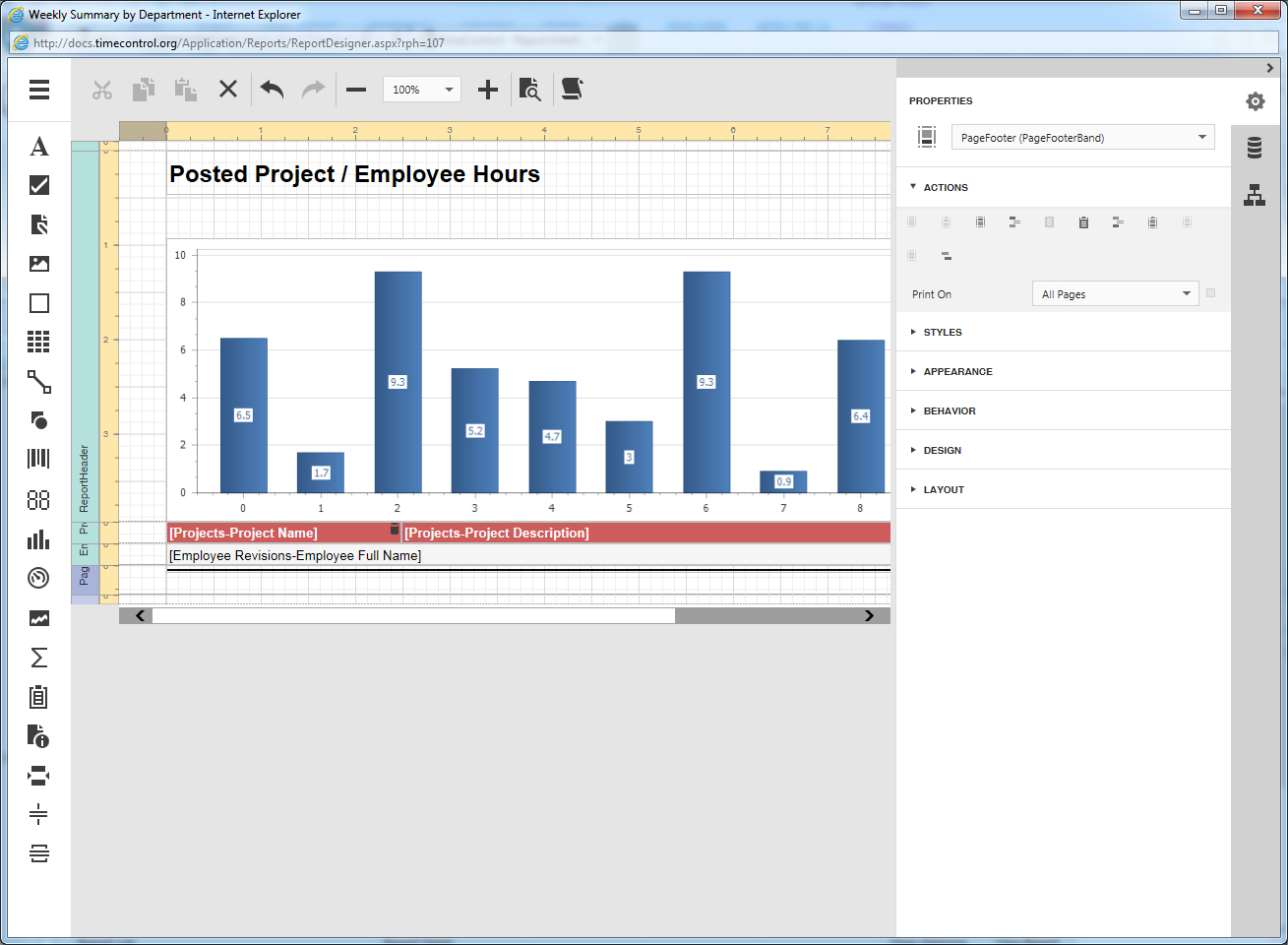 Table Validation Rules
We've created a completely new type of data validation that is table-based. Business Validation Rules have existed in TimeControl since the very first version but now we've created Table Validations. This allows data entry into a table to be validated prior to being accepted. For example, a user defined field for employee type might have possible entries of Employee or Contractor. You might wish to create a validation that says "If the type of entry is Contractor, you must enter the Contractor Name in Field 2.
Single Sign-on support (Windows authentication)
TimeControl now supports Windows Authentication Single-Sign On. Instructions on activating and configuring Single Sign on are in the Installation Guide and the User Table area of the Reference Guide.
Employee Banks can now be Running Totals
Employee Banks have all-new functionality called "Running Totals". If activated, this new function allows a bank of time to become a continuous calculation over an unlimited amount of time instead of being recycled at the anniversary date.
Custom CSS allows interface customization
All new Custom CSS files allows TimeControl System Administrators to customize aspects of the TimeControl interface. Aside from simple changes like changing a font or color scheme, the Custom CSS would allow how or whether a field is displayed.
User Table After Save Procedure
A new function has been created that is associated to the User Table. After a "Save" event in the table, a procedure can be automatically initiated. This features works only for On Premise deployments of TimeControl. It allows an implementation of TimeControl to automatically update external systems when onboarding of a new user occurs. The After Save Procedure is database-based and can cause a SQL procedure to be executed.
P6 Link now has the ability to import resource roles
TimeControl now supports both Resource Code integration and Resource Role integration with Oracle-Primavera P6. With other functions in TimeControl now role-enabled, this allows employees to be associated to a default role or resource code in the Employee Table and allows the timesheet to support task-specific resource or role allocation. So, an employee can be an engineer role in the morning and a supervisor role in the afternoon on the same timesheet.
New type of period (Pay Periods) can be used to filter table exports
TimeControl has new functionality that allows an Administrator to define not only the timesheet periods but other periods which can be used for reporting or exporting data. This allows a preset calendar to be created that is different from the length of the timesheet and which can be easily used for reporting or exporting purposes.
Instantly switch between alternate users without logging out
TimeControl has new functionality related to Alternate Users. If you have been designated as an Alternate to another User, you will now see a down-arrow next to your name at the top right of the screen. Instead of logging out and re-logging in to TimeControl and activating an Alternate User at that time, just click the down arrow and instantly switch to the Alternate you choose.
Ability to view server-side logs through the interface
TimeControl has new functionality that allows server logs to be viewed directly through the TimeControl interface. This will be particularly useful for TimeControlOnline Administrators who had no server access to these logs. All Administrators however will find the ease of access of the logs to be a welcome addition.
New scheduled job type: Execute stored procedure
TimeControl has a new function that can be scheduled through the TimeControl Scheduler. Now the Scheduler allows a SQL Stored Procedure to be executed just as other TimeControl scheduled jobs are. This removes the requirement of making SQL Stored Procedures to be scheduled either directly in the database or through other systems.
System Preferences: you can now delete or prune logs
System logs can become unconscionably long and until now Administrators would have to manually edit or delete them from becoming gigabytes in size. Now in the System Preferences area, new functionality has been added in which a log can be automatically pruned of older entries. For each log, a setting can be created listing the number of days to keep a log entry. Older entries will be automatically removed by TimeControl as a daily scheduled event.
There are numerous other enhancements in TimeControl including these:
Timesheet Entry: Start/Stop now manageable through security

Timesheet Entry: Allows users to manage user defined fields

Resource Preloads now has additional columns

Employee Banks each have their own anniversary date

Employee Table: Now supports role resources

P6 Link can now add literal strings to project map fields

P6 Link can select user defined fields for mapping with charges and projects

Project Table has new options for configuring P6 Role Imports

Validation Rules: Now has the ability to execute a stored procedure

PMLinks has been enhanced to allow PM Exports to be ordered

Ability to import/export Workflow and Accrual Rules

Improvements in updating code

New options when creating a timesheet

Timesheet Entry charge details is now a pop-up

Scheduled Jobs: Jobs can now be scheduled to run every 5 minutes

Employee Table now has 20 default banks rather than the original 9

Employee Table has significant Performance Enhancements

System Preferences Banks can now be reordered

Performance improvements
How to upgrade
If you have a current service agreement for TimeControl you can download the new version on the support/updates page. For more information on TimeControl 6.10 or our upgrade services, please fill in a contact request at email info@hms.ca or call +1 514 695-8122.