features What's New in Version 7.1?

HMS is delighted to announce the launch of TimeControl and TimeControl Industrial 7.1. This is a major upgrade to the TimeControl 7 family with many new features in TimeControl as well as numerous extended features which we believe will be advantageous to both existing and new TimeControl clients. For TimeControl Industrial clients, this is the arrival of TimeControl Industrial into the version 7 architecture with support for multiple devices and multiple browsers.

Here is more detail on the new and enhanced features you'll be seeing in this version: Line Item Approval

One aspect of TimeControl that has been a constant has been the multi-faceted way that approvals are handled. We coined the term "Matrix Approval Process for Labor Actuals™" (Yes, that's our trademark). TimeControl has had both an organizational approval aspect and a project management line-item aspect of approvals since its very first version but now we go much, much further. The new Line Item Approval mechanism allows additional parallel approval paths to progress as part of an approval design. Imagine one stream of approvals for HR and Payroll, another for Project Management, yet another for Account Management or even another for Onsite Client approvals. The implications of how flexible approvals have just become is so vast, we're still wrapping our heads around it and will share our insights in a white paper in the coming weeks.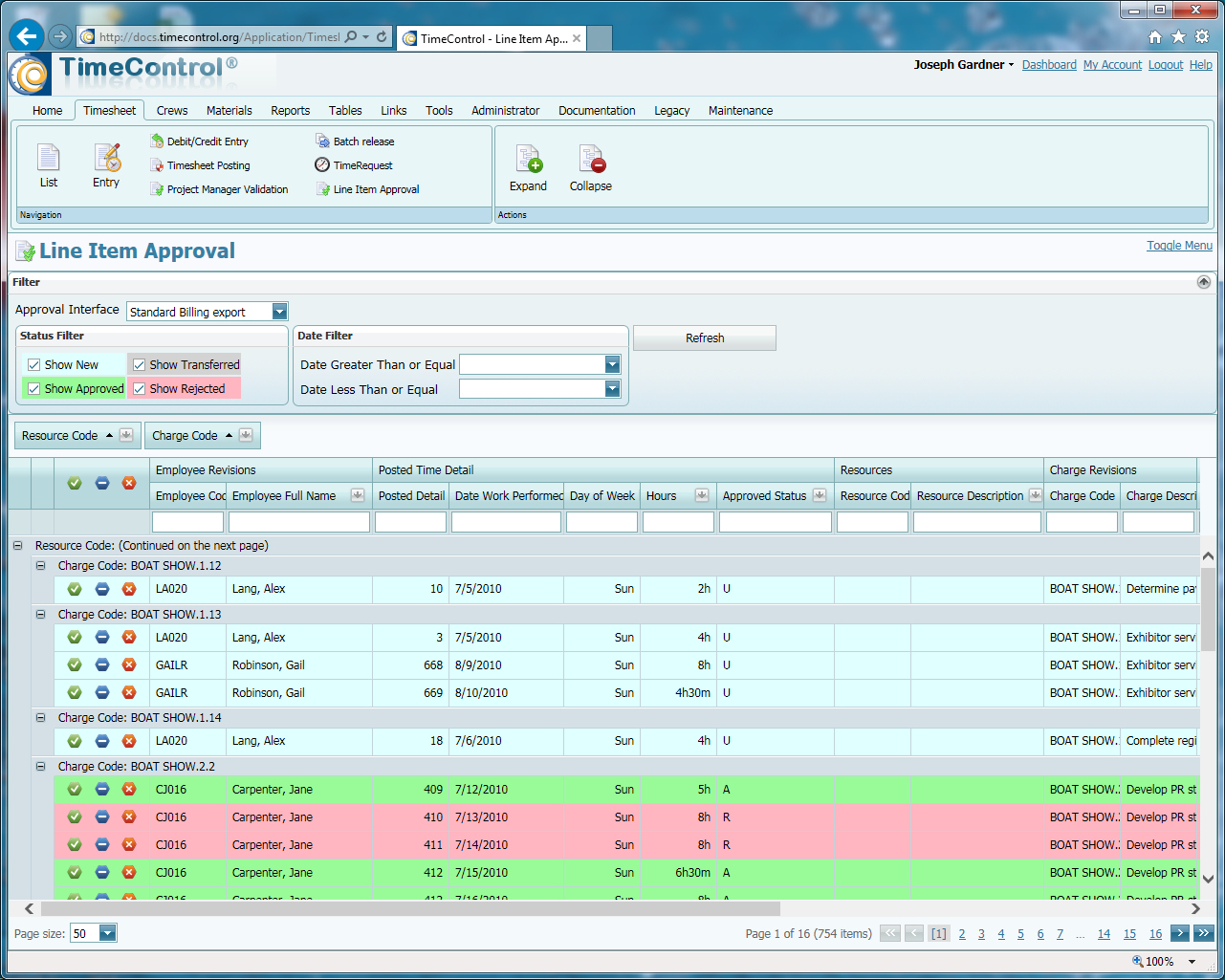 Web Services link to Oracle Primavera EPPM
TimeControl now has two ways of linking to Oracle's popular project management product. The existing database-to-database link will remain but for some environments this was not enough. For clients who are using TimeControl Online in the cloud or Primavera's EPPM environment in the cloud, integrating the two systems was a challenge. Now with the Web Services link, TimeControl takes advantage of the Web Services API within Primavera EPPM to create a bi-directional link with the same functionality as the existing link. TimeControl has had an integration with every version of Primavera since 1997 and with this new architecture, it looks like that integration will continue for decades to come.
TimeControl Industrial Crew Timesheets
TimeControl Industrial's core is built around the Crew Timesheet. This addition to the classic TimeControl interface allows field data collection to amass high volumes of production values and enter them in a single interface. This version of TimeControl has a completely rewritten version of the TimeControl Crew Timesheet which is built in TimeControl's multi-device, multi-browser architecture. There is no longer any ActiveX to be installed or anything else that is required on the browser. The Crew Timesheet now works with virtually any browser including Firefox, Safari, Chrome, Mozilla, and of course, Internet Explorer. There are other tools within the TimeControl Industrial Crew timesheet including the timesheet worksheet, materials entry and much, much more.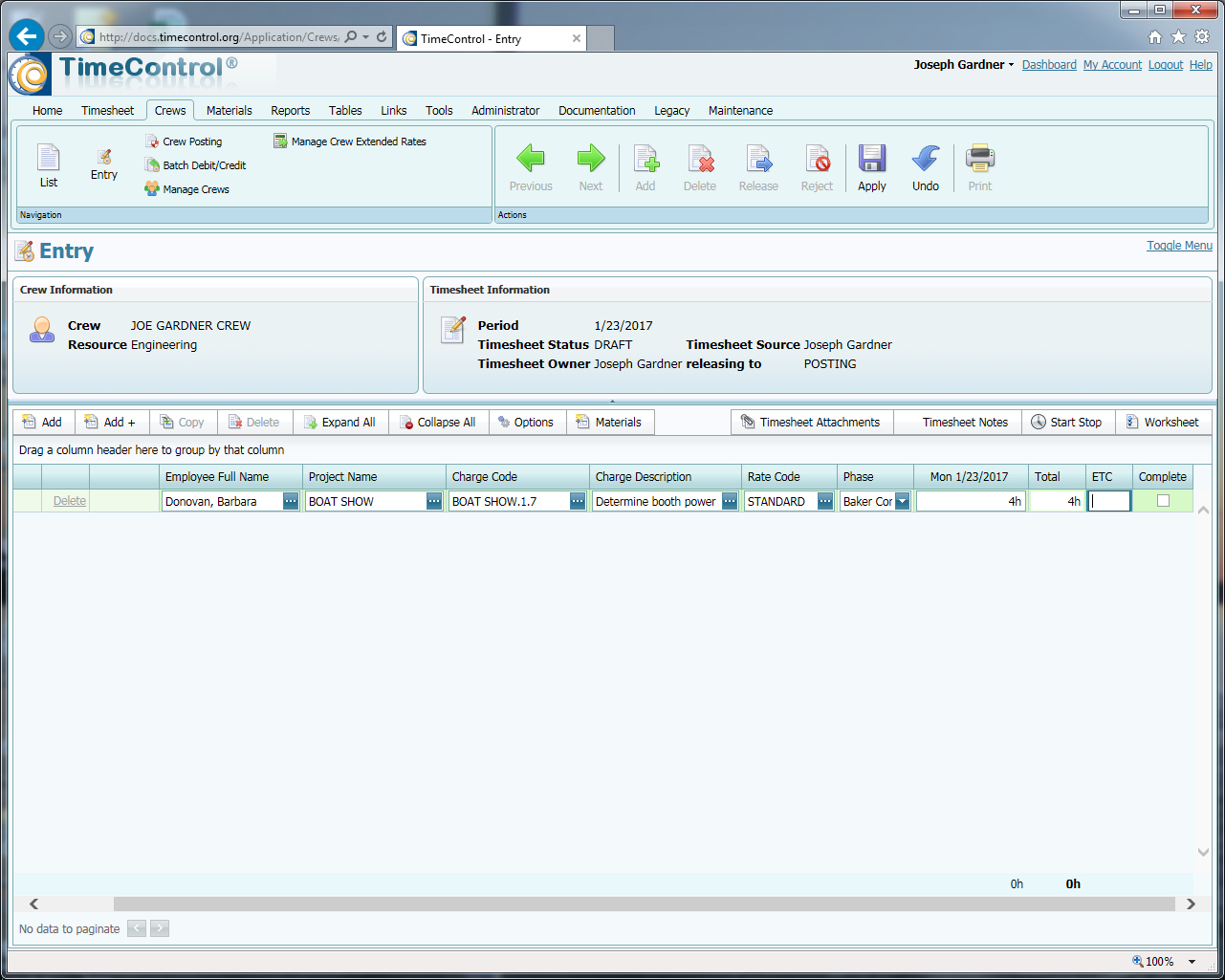 TimeControl Industrial Crew Timesheets Material Entry
Within the new TimeControl Industrial Crew Timesheet is a completely new Material Entry interface. This tab of the Crew Timesheet allows non-labor entries for Material consumed, Equipment used and Production accomplished. This area of the Crew Timesheet has been completely rewritten in version 7's multi-browser, multi-device architecture. The Material Tab duplicates the functionality of the main Material Entry screens except that approvals for these non-labor entries will be part of this crew timesheet's approvals. That is particularly attractive to organizations who wish to do crew labor and non-labor approvals simultaneously through the same approval path.
TimeControl Industrial Material / Equipment / Production Entry
Aside from the tab on the TimeControl Industrial Crew Timesheet, TimeControl also has the main Material Entry module which has been rewritten in its entirety into the TimeControl 7 multi-device, multi-browser architecture. This module allows the field data collection of non-labor entries such as Material, Equipment and Accomplished Production to be entered separately from the crew timesheet and approved along its own approval path. This allows non-labor data collection and approvals to happen at times that don't match the crew timesheet which is often the situation.
All TimeControl Industrial interface now in new Architecture
All remaining elements of the TimeControl Industrial interface have now been moved out of the old ActiveX controls and into the new TimeControl 7 multi-browser, multi-device architecture. This means that users are no longer tied to only using Windows and Internet Explorer devices but can now use Firefox, Safari, Chrome, Mozilla or other browsers on their preferred devices to perform all of the TimeControl Industrial functions. This includes Crew Management Crew Posting, Material Posting, Extended Rates management, Approvals and more.
Batch Debit / Credit
TimeControl Industrial had a feature in the past used for doing Debit / Credit adjustments for many employees at the same time. In the high-volume world of TimeControl Industrial, it was a must but it was also so popular that we've rewritten Batch Debit / Credit and have made it part of the regular TimeControl. Administrators are likely to love this easy to use method of making adjustments for multiple timesheets and even across multiple employees in a single interface. For organizations with many adjustments to make each period, this will be welcome news.
Employee Banks Report
We didn't talk about this much in the last version of TimeControl because it was new even to us but the Employee Banks Report is a new dynamic interface that allows administrators to view, aggregate, group, sub-group and analyze the status of all data in the Banked areas of the employee records. For larger organizations this view is tremendously powerful and allows HR managers to get a handle on what time off has been taken, what categories it's in and what is still to be taken for any selection of staff.
TimeControl User Profiles enhanced
With all the new reporting options in the TimeControl 7 architecture, it was time to redesign and rewrite the User Profiles area of the product that dealt with reports. There are now specific areas to define access for the Report Interface, the Drill-Down Analyzer, the timesheet Worksheet and the Legacy Reports. This provides more granularity for giving access to the data and features users with a particular profile can access. In addition, a super-user function allows a User Profile to be created to give certain TimeControl Administrators access to all timesheet data without restriction to make changes. TimeControl Administrators are likely to be delighted with the update.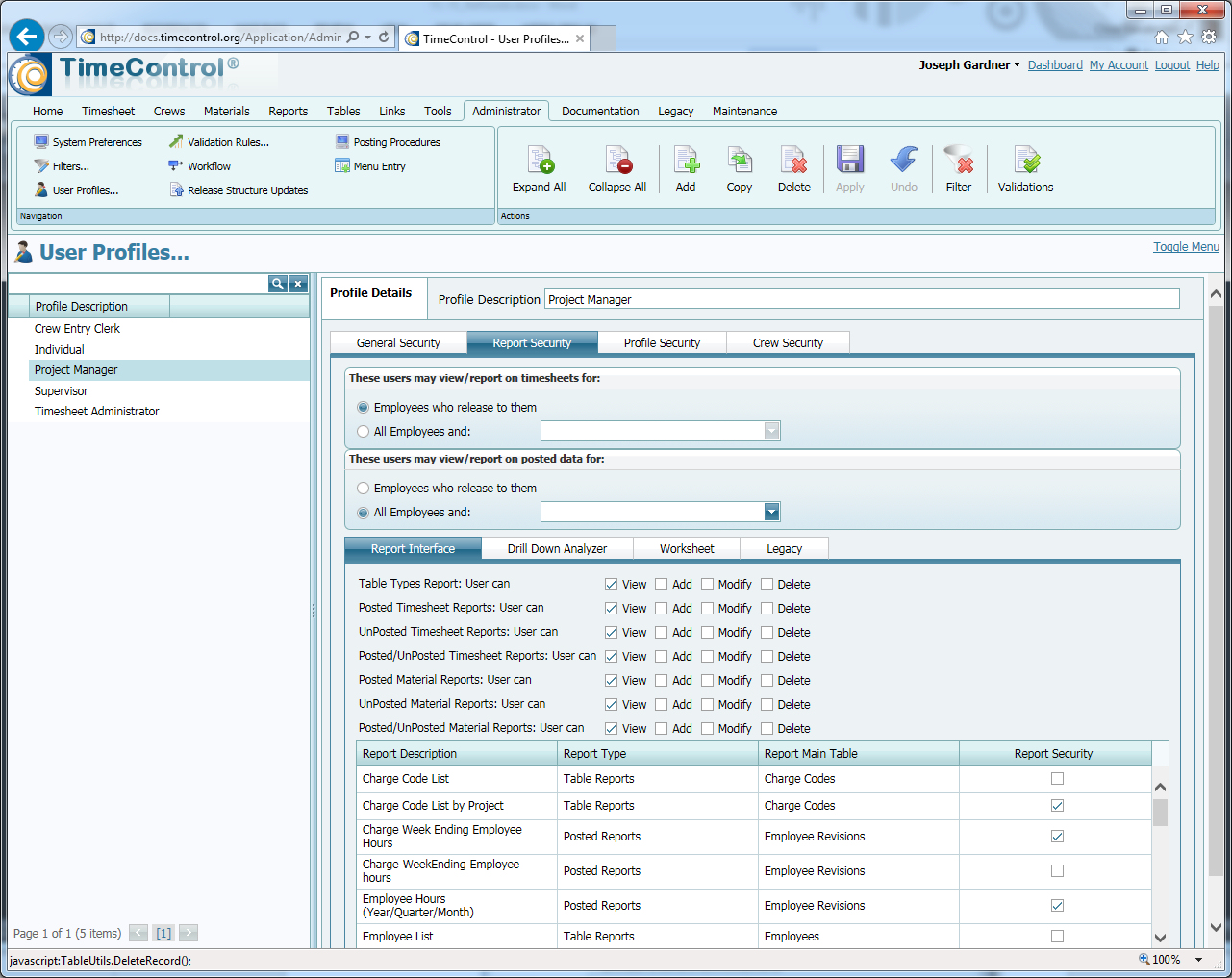 And so much more…
These are just the more visible changes available as part of TimeControl and TimeControl Industrial 7.1. There are so many more changes under the covers including performance improvements for high capacity or high volume implementations, ergonomic improvements to many of the screens, and improvements to the table interface which makes it faster to perform most functions.
Multi-Line Edit Timesheet
The Timesheet has been completely rewritten in TimeControl 7. In the TimeControl 6 edition, timesheet lines had to be added or edited one line at a time. Now in version 7, all lines are able to be edited simultaneously. For people who have many pre-loaded lines this will likely be a popular feature. When you are done with the entire timesheet, you can now save the whole document instead of saving lines as you go. Some changes to the timesheet have come about as a result of this including how additional timesheet line details are displayed and how you can lock the first columns of the lines.
How to upgrade
If you have a current service agreement for TimeControl you can download the new version on the support/updates page. For more information on TimeControl 7.1 or our upgrade services, please fill in a contact request at email info@hms.ca or call +1 514 695-8122.