What's New in TimeControl Version 8.4?
TimeControl, TimeControl Online, TimeControl Industrial, TimeControl Industrial Online and TimeControl Project version 8.4 include significant new and enhanced features. Here is more detail on some of what's new and enhanced in this update:
Here is more detail on some of what's new and enhanced in this update:
Completely new Dashboards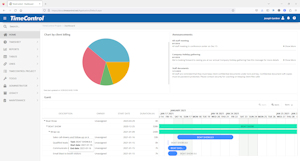 We've done a complete rewrite of the Dashboard Editor and display mechanisms for this version. Existing dashboard definitions are supported but we think everyone will be delighted with the changes. The editor now supports drag and drop of dashboard widgets, you can have dashboards that extend longer than the existing screen if you wish and to top it off we've added all kinds of new widgets to place on the dashboard including some for TimeControl Project. It's a big change.
New Dashboard Widget types
Some of the new widgets that are available to the TimeControl Dashboard include: a GANTT Chart, Notifications, Custom HTML, Task Assignments, Task Progress, and a Compliance Report
Support for Azure 365 Active Directory Single Sign on
TimeControl has had support for SAML support for some time. We've extended this to include support for Azure's very specific requirements for Active Directory in the cloud. This does not change existing authentication mechanisms. Support for Azure 365 Active Directory requires set up both on Office 365 and TimeControl and we've included a tutorial guide on how to make that configuration work.
New Link RESTful API link Oracle-Primavera
TimeControl has had a link with Primavera since 1997. With each evolution of Oracle-Primavera we have adapted our ability to integrate with the system and improved our link to take advantage of any new features. The latest from Primavera is an extension of the original Web Services link using a SOAP protocol into a RESTful API architecture. TimeControl 8.4 will support both Web Services and will continue to support other link technologies we've already published for earlier versions of Primavera.
Settings Management in the User Table
TimeControl now has the ability to transfer settings from one record or a default record in the User Table to any other users. In addition, the new Manage Settings feature can establish the default settings for any new users who are added to TimeControl. In the past, this could have been done for data elements such as filter but now, all User Interface settings can be transferred including Timesheet column order or column widths or Timesheet List columns and much more. It's a huge time saver for TimeControl Administrators
TimeControl Mobile update
You might not know it to look at it but the free TimeControl Mobile App has gone through an almost complete rewrite. We had been putting this off for a couple of versions but finally had to turn our attention to updating and changing the underlying interface. There isn't a ton of new functionality but TimeControl Industrial users will see some new features in Mobile for Equipment / Machines and the app will now support Dark Mode.
Import to the Task Table
TimeControl's Links options extend once again this time to the aid of TimeControl Project. Now the TimeControl Project Task Table can be loaded through Import Links.
The end of the Legacy tab
We've talked about it for some time, but the Legacy functionality that dates back to TimeControl version 3 in the 1990s had to go. This removes the Legacy tab from TimeControl Profiles and references to the legacy functionality from documentation and other areas of TimeControl. This part of TimeControl was essentially not used in TimeControl Online and TimeControl Industrial Online and only used by clients using older versions of TimeControl on premise. So, we expect the impact of this change to be minimal. More information on this is available on the TimeControl Blog.
Improvements to InEight Estimate link
We've extended the functionality to integrate with InEight Estimate (formerly known as Hard Dollar) several times in the last year. We had added support for InEight Estimate Data Warehouse prior to TimeControl 8.4 and we've now added support to distinguish between Materials and Equipment/Machines. This includes changes to the Resource definitions and the integration link between the products.
The end of support for Internet Explorer
Along with the end of the Legacy functionality, we say goodbye to an old (really old) friend. TimeControl is no longer being tested with Internet Explorer either 32 or 64 bit versions. Microsoft had sunsetting the browser in favor of its Edge replacement which we happily have supported since its first release.
New security and options in System Preferences and User Profiles
In System Preferences you can now define more types of user defined fields for both the timesheet header and the timesheet details. User Profiles has more options too including more security for Batch Debit/Credit and field hierarchies.
Start / Stop has a new clock
If you're an organization that uses the Start / Stop functionality in the timesheet, you might be delighted to find that there is now a clock start and stop function which will apply to today's Start/Stop entries. You can insist on this being the only way to advance the clock and use new security options to a) turn the clock on and; b) determine who can edit the clock entry times.
And...
There's so much more: Default field values in TimeControl Project, Multiple Hierarchy support in tables and performance and security updates.
How to upgrade
If you have a current service agreement for TimeControl you can download the new version on the support/updates page. The free TimeControl Mobile App will be updated on the Apple Store and Google Play by April 21st. For more information on the latest TimeControl features or our upgrade services, please fill in a contact request at email info@hms.ca or call +1 514 695-8122.
TimeControl Online users will be updated automatically. TimeControl Online users will be informed in the coming days about the schedule for their system upgrade.