What's New in Version 7.2?
HMS is proud to announce the launch of TimeControl and TimeControl Industrial 7.2 This update to the TimeControl 7 family includes numerous new features, a brand new Mobile App and a wide range of improved functionality. We hope you are as delighted with this latest version of TimeControl as we are.

Here is more detail on the new and enhanced features you'll be seeing in this version:
TimeControl Mobile App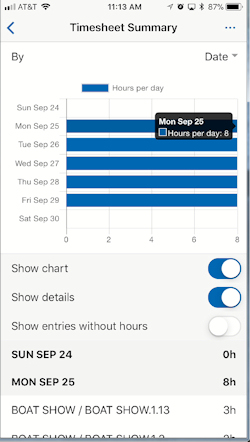 The TimeControl Mobile App is a free App designed to work on both Android and iOS (Apple) devices. The App lets you log into your TimeControl account and create a timesheet, update an existing timesheet, complete and release a timesheet and, if you are a supervisor, approve or reject timesheets. The App has an intuitive interface with a highly responsive design. If used on an Android device, it adopts the styles and characteristics of that device. If on an Apple device, it appears as any other Apple-based App. The screen adjusts with the resolution available to it. If used on a Tablet, the App takes advantage to put more functions right onto the screen instead of inside of a menu selection.
The App uses the same communications protocol as your browser might so, if you are using Secure Socket Layer communications, the TimeControl App will too, making communications between the TimeControl App and your TimeControl server, highly secure. For organizations that have policies about Apps and do not want the TimeControl Mobile App used, it can be turned off completely by the Administrator or made available profile by profile. The App is free and available on Google Play and the Apple App Store.
For more information on the TimeControl Mobile App, visit mobile.timecontrol.com.
TimeControl API
TimeControl now includes a complete Application Programming Interface to the already numerous methods of integrating TimeControl. With scheduled links already available, many organizations can take advantage of transferring data to and from TimeControl through transaction files. This new REST-based API goes even further, letting organizations program the movement of data into and out of TimeControl by creating programming calls to the TimeControl API. The API is optionally installed as part of TimeControl and security is controlled in both System Preferences and User Profiles.
Timesheet Grouping
TimeControl now allows you to group your timesheet or for TimeControl Industrial users, the Crew Timesheet. For users with a large number of line items, grouping them can help with data entry. There are up to five levels of grouping and you can group by any field displayed on the timesheet. New buttons to Expand All or Collapse in the Actions Menu at the top allow you to quickly display all lines in the grouped format or go back just to the summary lines.
Schedule Timesheet Creation
For organizations that wish to skip the timesheet creation process, TimeControl now allows administrators to create blank timesheets on behalf of their users. This can be done on demand or on a schedule. Users would find their pre-loaded lines including TimeRequest lines already displayed just as though they had clicked on the create button themselves.
Schedule Autofill
Autofill is used by TimeControl Administrators for groups of users who only enter timesheets by exception. These users would have an assumed presence at work unless they entered exceptions such as vacation, sick leave or other personal time off absence. Autofill allows Administrators to complete remaining hours to a set level for any group. Now Autofill can be run as a scheduled process to alleviate Administrators who have a stable standard process for using Autofill from having to execute it on demand.
Send a notification from Line Item Approval (LIA)
We've had many positive reviews of the Line Item Approval function released in TimeControl 7.1. Line Item Approval has allowed organizations to make parallel approval processes to work alongside Project Manager Approvals so that billing approvals, site manager approvals, and other types of approvals that are project/charge line based can be implemented. Now this function has been enhanced to send emails at the end of each LIA session to users who have had rejected lines items so they can execute the corrections.
Pre-test timesheet validation rules with Analyze
TimeControl's Automated Validation Rules has been one of its most popular features. We've enhanced this function by adding an "Analyze" button on the timesheet so users can do a quick test of their timesheet before they release it for approval. The Analyze button shows where the error is so the user can make the correction before entering the release function.
Validation Rules – identify line number with error
We've made other improvements in TimeControl's Automated Validation Rules. Now errors which are line item based will show the line number in the error message, letting users more quickly focus on the correction required.
Lock timesheets from changes based on pay period
In version 7.1, TimeControl provided multiple period support for different corporate processes so that both a timesheet period and a period for pay or billing or other corporate processes could be used simultaneously. We've extended this functionality now so that pay periods can lock timesheets from further changes. This is a User-Profile based constraint which means that some users might be restricted from changes while other Administrator type users could still make them in a controlled environment.
SAML 2.0 authentication
We have supported single sign on support for some time. TimeControl now includes support for SAML v2.0 authentication as well.
Drill Down Analyzer now allows expenses, other tables
TimeControl's Drill Down Analyzer has been one of its most popular view modules for TimeControl Administrators. The Drill Down Analyzer allows Administrators to instantly group and summarize data by just dragging and dropping fields into the grouping bar. We've made major changes to this module by allowing data other than just timesheet history to be modeled in the same way. Now Charge Table, Project Table and Expense data can be put into a Drill Down Analyzer views.
Headers and Footers in DDA and PM Validation Exports
The Drill Down Analyzer, Project Manager Validation and, Line Item Approval modules are highly popular features in TimeControl and often Administrators will save these views in Excel formats to use later in presentations or for other analysis. We've now added Header and Footer options for these views so they can look more like TimeControl reports when saved.
Change Excel import so worksheets is selected from a drop down
Some time ago, when we first introduced direct support for Excel in our TimeControl imports and exports, clients were delighted. One area of imports has now been enhanced. Instead of having to know the Excel Worksheet name to be typed in, TimeControl now accesses the referenced worksheet and provides a drop down list of all the worksheet names so it can be simply selected.
New Dashboards reports
TimeControl now has new dashboard reports to add to the numerous possible dashboard views already in the dashboard inventory. Categorized hours lets you group and total hours for any available field. A compliance report shows what percentage of timesheets are still outstanding for a given period. The vacation taken / remaining report gives you a quick look at who has a lot of vacation time still to take and the missing timesheet report brings the missing timesheet list right to you dashboard which should help getting timesheet completion to 100% faster.
And…
There's so much more. We've made it possible to put constants in an export, hide the Worksheet view in timesheet, get menu-based access to selected server logs, and improved performance.
How to upgrade
If you have a current service agreement for TimeControl you can download the new version on the support/updates page. For more information on TimeControl 7.2 or our upgrade services, please fill in a contact request at email info@hms.ca or call +1 514 695-8122.
TimeControl Online users will be updated automatically in two to three weeks.