Canadair Defense Systems Division Integrates Timekeeping and Scheduling for More Effective Project Control

"Virtually every employee who reports time now does so from TimeControl. Every single timekeeping report is extracted from a single source and then distributed to other systems."
Herlander Vaz, an Analyst with Canadair DSD's Information Systems group
Virtually every aerospace company uses project control software of some kind. Systems were often installed ad hoc as the need required often to fulfill the requirements of a single project. With competition in this industry sharper than ever, more and more aerospace firms are now looking to integrate different aspects of their project control systems together.
One such aerospace firm is Bombardier Services Group's Canadair Defense Systems Division (DSD) based in Montreal. Canadair Defense Systems Division concentrates its activities in military and commercial aircraft technical services, special mission aircraft, unmanned air vehicles and civil training services. It's civil division includes work such as refinishing aircraft. It is currently working on aircraft painting of the Canadair Regional Jet.
In 1986 Canada's Department of National Defense (DND) named Canadair's DSD as the prime contractor for the "CF-18 Systems Engineering Support Contract (SESC)" according to Major Jim Henry, the CF18 Aircraft Engineering officer of DND.
Major Henry works under the Directorate Aerospace Equipment Program Management (Fighters and Trainers) (DGAEPM). This Directorate has been involved in the refurbishing of Canada's fleet of 122 active CF-18 aircraft."The CF-18 first joined the Canadian forces in October of 1982", according to Major Henry.
"There are currently 15 active CF-18s in each of four Tactical Fighter Squadrons. Two squadrons are located in both Canadian Forces Base Cold Lake, Alberta and Base Forces Canadien Bagotville, Quebec. In addition to the operational units, 20 CF-18s are assigned to the Operational Training Unit at CFB Cold Lake."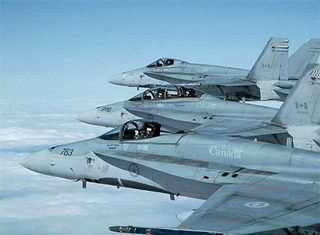 The life cycle of the CF-18 airframe is currently being evaluated. "A joint Canadian-Australian program is underway to assess the full life of the CF-18 structure", explains Major Henry. "This program is called the International Follow-On Structural Test Program (IFOSTP). Canada is responsible for testing the centre section of the CF-18 fuselage. The Australians will test the aft fuselage. A CF-18 is presently undergoing simulated flight loads at the Canadair facility at Mirabel. This joint test program will determine the economic life for the CF-18 structure and will also determine the structural changes needed to realize this full life."
The CF-18 is a multi-role aircraft designed to perform both air-to-air and air-to-ground missions. Until 1993, the CF-18 was regularly deployed as part of Nato forces at CFB Baden in Germany and many Canadians will remember news footage of these aircraft taking off from Qatar as part of the international coalition forces during the Gulf War.
As one of the cornerstone of Canada's air forces, maintaining these airframes in state-of-the-art condition is key. DND's Systems Engineering Support Contract gives Canadair a lead position in fulfilling this goal. "This contract is for the refurbishing of Canada's fleet of 122 CF-18 aircraft", explain Maj. Henry. "It has been renewed with Canadair since 1986 and will continue through at least 1999. The upgrades to the CF-18 include replacement of the core avionics, upgrading software, implementation of APG 73 Radar and integration of advanced weapons purchased under separate projects."
With over 900 employees and an enormous amount of work in progress, Canadair's infrastructure was put to the test as never before. The CF-18 project started with work in Canadair's St-Laurent, Quebec facility then moved to Canadair's new facilities in Mirabel, Quebec where it continues today. The project involves not only many people but also major sub-contractors and complex work schedules. Canadair's project control systems in particular were scrutinized carefully. In these busy times they would have to deliver.
Project scheduling was first. In 1988 Canadair DSD chose Open Plan, a PC-based project management system built on a commercial database and noted for its flexibility. They're in good company. Open Plan is well known in the aerospace/defense industry. It is in use by companies such as Boeing, GE Aircraft, Rolls Royce, Lockheed Martin, Rockwell and Ratheon. In Canada, Open Plan is in use by defense contractors such as General Motors Defense and CAE Electronics which is a sub-contractor to Canadair DSD.
The Government would have specific requests of Canadair for project control reports. "The contractor must provide cost and schedule data for planning, scheduling, budgeting, monitoring, reporting and control of activities, events and milestones", explains Major Henry. "The PMO plans to use Canadair's own in-house data to generate reports using Open Plan."
Open Plan's ability to be modified and its architecture being based on a commercial database allowed Canadair scheduling personnel to adapt the tool to the rigors of military and civil aircraft maintenance. Schedules would have to be monitored every day, large volumes of information that would never be considered for construction type projects would have to be added to the project management database. Finally, additional functionality specific to the CF-18 contract needs for managing project costs would have to be created by Canadair personnel and added to Open Plan's regular menu selections.
Canadair's project scheduling and computer personnel adapted these systems in house. They were supported by Open Plan's Montreal-based distributor HMS Software. "Open Plan is an unusual system for project management in that we provide technical support to users who have modified the system for their own requirements" says Stephen Eyton-Jones, head of technical support for HMS. "At Canadair we had users who were clearly knowledgeable and determined to get as much out of Open Plan as possible through their own adaptations of the system. Over the last 8 years, we've provided support to those changes here from our Montreal offices. Now with Open Plan having advanced to a Windows environment, we're working with Canadair to ensure that they're able to get the same degree of control as they upgrade to Windows."
From 1988 to 1994, Open Plan was also integrated with a number of corporate data systems. One key area was the labour actuals generated from timesheet systems.
An in house systems originally designed for department usage was adapted to include salaried and production but the system was laboring according to Herlander Vaz, an Analyst with Canadair DSD's Information Systems group. "We were maintaining information in several different timesheet systems. We needed to eliminate both duplication of effort and data which was unsynchronized. Not only that but the old system had expanded to fulfill more roles than it was originally designed for and it had become difficult to maintain."
In 1994 Canadair DSD turned its attention to implementing a single timesheet system which would not only be easy enough to use by many users but also be able to integrate with systems such as Open Plan.
The project leader for the new system would be the Finance department but it knew that integrating pre-existing systems would require buy-in from many departments if the implementation was to have any chance of success. A selection committee was organized including members from Finance, Engineering, Production, Production Support, QA/QC, Program Planning, Human Resources and Information Systems. This committee would see the project from design to implementation sign-off. A key aspect of making the implementation a success was to apply project management techniques to the integration of the project control system.
The Defense Systems Division set out some basic goals for itself.
"We wanted a standardized system used throughout the entire company. It had to be easy to use so not to discourage anyone. We wanted all the data in one centralized source and we wanted to diminish the number different reports."

Herlander Vaz, an Analyst with Canadair DSD's Information Systems group
Some of the key areas of the system were affecting actual billing. "We needed instantaneous validation of jobs and activities," Vaz explains. "Timesheet entries which were not valid would go into a suspense account and we wanted to eliminate the hours in suspense." The impact of this alone was justification enough to attempt to integrate the diverse systems into one.
As of June 1994 Canadair was considering several options to the timekeeping problems: They could write a system internally from scratch; enhance the old system; adopt and enhance a secondary system which was already in use in some areas or; look for a commercial system which could be adapted to DSD's requirements.
The load for the new system was not insignificant. Over 450 salaried employees and 250 direct hours employees would fill in some 2,500 to 3,000 timesheet line items per week. Over 40,000 different job numbers had to be maintained.
One option considered was the purchase of a commercial timesheet system published by HMS Software, the Canadian distributor of Open Plan. Many of the DSD's requirements already existed within TimeControl's functionality including key architectural areas such as all the data residing in a commercial database, an ability to user-define authorization levels for timesheets and an existing link to Open Plan. Also, the advantage of having one supplier provide support for both Open Plan and the timesheet environment was attractive. As a shrink-wrapped package however, TimeControl would require modifications to meet DSD's stringent requirements.
In December 1994, DSD acquired TimeControl with a commitment from HMS Software to assist in modifications to the system. HMS and Canadair personnel began working together to finalize a specification for what would become the DSD timekeeping environment.
Making the supplier a business partner in the process was key to the success of the project according to Vaz. HMS Software's representatives agree. "From the beginning what made the Canadair implementation successful was the high level of communications between their technical staff and ours," says Stephen Eyton-Jones, head of HMS's technical services group. "We had regular meetings and almost daily communications both during the design phase and during the roll-out of the system. Thanks to that tight relationship, if there was a problem or some resistance due to a lack in the system, we were able to respond instantly."
Some of the changes that Canadair requested to the standard TimeControl system were extensive. The system would have to work for both salaried and hourly production staff something which had not been accomplished in one system before. The needs of each group were very different. Some of the functions that Canadair looked for but didn't immediately find included an ability to update the estimate to complete automatically from the timesheet system; an ability to update production personnel timesheets every day instead of every week and an ability to post those changes directly back to Open Plan daily and weekly.
Requested changes to the system came in two categories. First were changes that were general enhancements to the product's functionality that Canadair determined during the evaluation period.
"Several of the modifications we made to TimeControl at Canadair's request were simply good ideas", says Brian Mair, one of the chief developers of TimeControl at HMS Software. "For example, in one instances, Canadair told us they needed to be able to temporarily assign someone to authorize certain timesheets in a supervisor called in sick. We liked the concept so much we added the functionality into the system."
Other requests fell into a second category of functional requirements unique to Canadair DSD or for specific project requirements such as the CF-18 contract.
Mair explains, "One of the most challenging changes we worked on for Canadair was DSD's requirement that they be able to generate a budget vs. actual analysis of work performed by production personnel the day before or sometimes even late the same day. Clearly our design of TimeControl as a weekly timesheet system meant that we had to do changes to the system architecture in order to accomplish this."
TimeControl also had to be integrated into the systems already at work at Canadair including the scheduling system, and the financial systems. "One of the things we wanted to do is have the information flow from TimeControl to Open Plan so we could create production schedules for the next day", explains Vaz. The ultimate daily and weekly integration of the timesheet and scheduling system allowed one of the key goals of the new system to be realized. Users who entered timesheets would know instantly if a charge code was valid. The system was made easier for the end users by including a drop-down list of all valid charge codes in the timesheet system. The list would be generated daily through the integration with Open Plan bringing all the current scheduled activities from the scheduling system directly into the timesheet system. The process would virtually eliminate invalid timesheet entries.
All the design changes considered by Canadair and HMS had to take into account a gradual migration to Windows versions of both Open Plan and TimeControl. "We knew we were starting with DOS systems but that we'd be ending up in the new Windows systems", says Stephen Eyton-Jones of HMS. "We had to ensure that whatever we did with TimeControl would be able to be incorporated or redone under TimeControl for Windows. We made several allowances in the TimeControl for Windows code in order to make sure we could. Our plans to move TimeControl for Windows to a client/server database structure also fit in well with the plans at DSD Information Systems. At the same time, we kept checking with Welcom Software Technology, the publishers of Open Plan to be certain that any future versions of Open Plan for Windows would support what we were doing."
One of the areas for future consideration for the system was the direction of all data systems at DSD. "We were told that Canadair DSD wanted to ultimately head to a client/server database environment for both TimeControl and Open Plan", says Rob Edwards Vice-President of Technology at Welcom Software. "For our Windows products Open Plan Professional and Open Plan Desktop this was not a problem. Our system can store its data directly into a client/server format such as Oracle, Sybase or SQL Server."
With product futures well in hand, the HMS and Canadair team pushed through the system alterations quickly. By early 1995 initial coding was finished. With the basic integration complete, Canadair and HMS turned themselves to the task of writing procedures and training materials to ensure that the users would be able to smoothly move over to the new system. One of the first tasks was to populate the various tables with data from the exisitng timesheet systems. Information such as employee tables, department definitions, coding structures to be used later for reports and custom reporting to match some of the older systems was all put into place. A plan was established that had the old systems phase out one-by-one.
Throughout 1995 Canadair employees were gradually phased into the new system. Introduction of the new system included familiarization seminars, training an, finally a switch over from the old system to the new.
"The original intention was to deal with the implementation in a very aggressive manner," says Vaz as he recounts the implementation plan. "When you start dealing with legacy systems and asking people to change you have to go more slowly."
The implementation started with a group of employees every two weeks then accelerated to a new group every week. The implementation culminated in February 1996 when the old timesheet systems were shut down for the last time.
"It took longer than we expected because of all the side issues, says Vaz. "We had to redefine not only the system but also our own procedures." Procedures included not just how to enter a timesheet but also how to ensure that the timesheet data would be accurate. Automatic validation procedures within the timesheet system made sure that regular typos would be caught at the source. Procedures included how to authorize timesheets by supervisors; how to gather data from salaried employees, from production employees and from sub-contractors; how to move data from Open Plan to TimeControl so timesheet entries would be validated against accurate schedule information and from TimeControl to Open Plan in order to update the schedules; how to interface with the financial system and; finally how to report on project information and what to do with the information contained in those reports.
"Virtually every employee who reports time now does so from TimeControl. Every single timekeeping report is extracted from a single source and then distributed to other systems. If there is an error, the timesheet system is our master data for all other systems."

Herlander Vaz, an Analyst with Canadair DSD's Information Systems group
Canadair's DSD now has a project control system system which integrates the schedule, the timesheets and the financial systems with other aspects of the organization. It ties directly to the Open Plan project management system to provide budget vs. actual reports and to the financial systems for both job costing and billing purposes. Exports are also created for government-specific reports for defense work.
With new opportunities in both the defense and civil arenas, Canadair DSD continues to expand. New contracts working on the Canadair Regional Jet are the beginning of what it hopes is an important new segment of its work load. With the integration of Open Plan and TimeControl, the project control infrastructure is ready.
Mr. Vaz has lists several pitfalls to guard against for anyone considering similar implementations in their own organization. Of the those most important, he recommends ensuring that there is sufficient commitment from both the users and management for the proposed changes. He also recommends watching out for implementation schedules that are too aggressive or which result in resource overloads.
Still the results have made the effort worthwhile according to Vaz. "The time we were spending fixing the timesheet system and correcting timesheet errors is now spent in more productive areas", he says. "From a management point of view, a supervisor can now see where and employee has spent his or her time in a timely manner. This alone has paid for all the effort and time in putting the system together."