TimeControl Flexibility
It's no wonder that HMS developers identify so strongly with the infinitely flexible Mr. Gumby. TimeControl is without question the most flexible timesheet system on the market.
In virtually every aspect of TimeControl's design, flexibility is a primary goal. TimeControl's hallmark is to deliver a different aspect of a solution to a different part of the organization so being able to adapt to many conditions simultaneously is something that it does well. Here are just a few ways that TimeControl can adapt to your challenges:
Data flexibility
TimeControl's auditing power comes from the way its data is stored yet the configuration and structure of that data can be unique to each organization. TimeControl provides tremendous capabilities in modeling data to your requirements including:
Add unique user-defined fields to each table.
There are several user defined fields by default in each new TimeControl instance but you can add your own. You'll need the Change Structure privilege in User Profiles and you can then add your own fields. There's an example of this in the Online Lessons. Click on Add a Field to see the short video.
Add fields to the timesheet
You can also add columns to the timesheet itself for data that you want users to add into each timesheet line.
Make some fields visible to some people, other fields visible to others
If you have some fields that are only appropriate to some users, you can use User Profiles Field Security to make those fields visible to only the users who can see them. You can then either hide those fields from others or make them read-only.
Link those fields to pop up lists
To improve data quality, you can link any user defined field to a list of possible drop-down values rather than allowing free-form entry.
Link those fields to lists of values from *outside* TimeControl
Some organizations wish to validate a list of user defined field values from a list outside of TimeControl. Impossible? Not at all. TimeControl allows you to map the drop-down lists to a list that is sourced outside of TimeControl. A list of possible account codes or departments maintained in an ERP is a good example how this can improve data quality.
User flexibility
At the user level, there are many ways users experience flexibility including:
Use multiple devices and multiple browsers
Users can first use a wide range of input devices including your PC of course with support for a wide range of possible browsers but also the free TimeControl Mobile App which works on phones and tables in both Android and Apple devices.
MyProfiles
Users can use the personal options to make some prompts visible vs. invisible or pre-populate the timesheet each with the user's own selections. Users can select their own language and make their own default entries for their timesheet.
Timesheet display
By clicking on Options in the timesheet itself, users can select what fields they'd like displayed and then change not only the width but also the order of the fields.
Approval flexibility
TimeControl's timesheet approval capabilities are remarkable. Each organization can select the functionality from a wide range of possible approval functions to create their own unique approval process and that process can be applied to everyone or different processes can be applied to different groups within the organization.
Approval is all about making sure that the data accepted into the timesheet system is accurate and follows the organization's rules. That starts with making sure data is conditioned through TimeControl's dynamic filtering system so users only see and choose from data that's appropriate to them. Then automated checks on the data can catch errors before the timesheet even leaves the control of the person who entered it.
Some categories of TimeControl approval functionality include: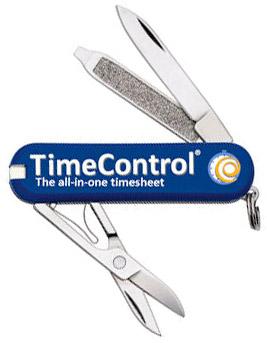 Multi-level Approvals
TimeControl allows an unlimited number of levels of organizational approval of the timesheet.
Alternate Users
If a supervisor will be absent for a period of time, their responsibilities can be delegated using an Alternate User. TimeControl automatically keeps a complete audit of who did the approvals, the alternate or the primary user.
The Matrix Approval Process for Labor Actuals™
TimeControl's unique matrix approval process has been trademarked since 1995. It allows approvals at *both* the organizational and project management levels as part of the same process. Tell me more about this.
Automated Validation Rules
TimeControl includes its own business rules module that allows rules to be created and tested when the end user releases their timesheet for approval. Before the timesheet is even accepted in the system, TimeControl has already checked it for compliance with the organization's standards. Tell me more about this.
Rates Flexibility
It seems like one of the simplest screens in the system, but the elegance of the TimeControl rate system belies its power. Some key elements include:
Have an unlimited number of rates
There is no limit to the number of rates per employee. Rates can be at the Global, Resource or Individual levels.
Filter rates so you don't see them all
TimeControl allows you to constrain what rates are displayed for what situation so if you want only certain project rates to appear for certain projects, you can define that in TimeControl.
Have multiple values for the same rate
For each rate there are multiple possible values. You can track internal cost, external billing price, average project cost and more all from the same rate code. There are infinite possibilities.
Project Management flexibility
Integrate with Microsoft Project, Project Server, Project Online and Project for the Web
TimeControl can be integrated to Project on the Desktop (Standard and Professional) as well as Project Server on premise and Project Online simultaneously. This allows multiple instances of Project Server, multiple versions of both Project Server and Project Desktop to be supported at the same time! Tell me more about this.
Integrate with Oracle-Primavera
TimeControl integrates with Oracle-Primavera Pro on the desktop as well as the server based Oracle-Primavera EPPM. Tell me more about this.
Integrated with BrightWork and SharePoint
TimeControl includes a bi-directional integration with BrightWork as well as SharePoint on which it is based. Tell me more about this.
Integrate with JIRA
TimeControl includes bidirectional integration with JIRA. Tell me more about this.
Integrate with Deltek's Open Plan and Cobra
TimeControl's very first integration in 1994 was with Open Plan and we have maintained that link now that Open Plan and Cobra are part of the Deltek EPM environment. Tell me more about this.
Integrate with Hard Dollar's HD PCM
TimeControl and TimeControl Industrial integrate to the Hard Dollar HD project cost management system with a bi-directional link so that field data collection can integrate with estimating and project cost control. Tell me more about this.
Integrate with ARES PRISM
TimeControl and TimeControl Industrial integrate with ARES PRISM G2. Tell me more about this.
Link to combinations of the above
If that wasn't flexible enough, you can link to different combinations of the above tools simultaneously so multiple project and cost systems can be supported at the same time.
Integration Flexibility
TimeControl is well known as the most integrateable project data collection system in the industry. There are numerous ways to move data into and out of TimeControl to allow it to integrate with multiple corporate systems aside from project management. That includes scheduleable imports and exports including support for encyrpted FTP movement of transaction files and, possibly the ultimate in integration tools, a fully functionality RESTful API. TimeControl's programmable bidirectional interface allows data to be integrated both for moving data into TimeControl and moving data out.
And so much more...
We're only scratching the surface. Virtually every part of TimeControl is designed to flex, just like Mr. Gumby...
Security Profiles
Our User Profiles allows TimeControl to be configured so some users see and can do different things. Control data, menu items, reports, functions and even individual fields by role.
Manage Languages... even your own
TimeControl includes multiple languages in its basic configuration but we also allow you to rename any message, description, column or field in the system. That's how we support multiple languages but it also allows you to adjust the system's terminology to match your own.
What, there's more?
There is so much more. Features like being able to put your own logo on the login screen,or above the main menu, the WYSIWYG report writer, the tactical Drill-Down Analyzer, the flexible Time Request Vacation manager, dynamic Accrual Rules, Automated Workflow processes, Email notifications and more. It is because of this level of flexibility that TimeControl is able to support the needs of HR, Payroll, Billing, Project Management, Job Costing and corporate governance requirements out of a single timesheet system.
Can we do what you need? Just ask us.