Integrating TimeControl and InEight Hard Dollar HD PCM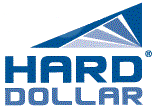 Integrating Hard Dollar's solution for project estimating and cost control with TimeControl or TimeControl Industrial for field data collection of labor and non-labor costs makes for a powerful combination. TimeControl and TimeControl Industrial include a bi-directional link with Hard Dollar's HD PCM.
HMS Software and Hard Dollar technical personnel have collaborated on integrating the power of the Hard Dollar estimating and project control system with the flexibility and extensibility of the TimeControl Industrial field data collection environment. Integrating TimeControl Industrial with HD PCM gives the best of both worlds.
The link between the systems includes numerous options. HD PCM jobs are translated into TimeControl projects. HD PCM cost items become TimeControl charge items. HD PCM resources arrive into TimeControl as TimeControl resources. In TimeControl Industrial, employees and crew timesheet entries will become costed or uncosted labor entries. These can be automatically sent back to the Job Tracking Detail screen in HD PCM as just hours or hours and costs.
In addition, TimeControl Industrial can track material consumption, equipment usage and production values. The material consumption and equipment usage can also be sent back to HD PCM in the Job Tracking Detail area as uncosted quantities or costed values. The production values can be sent back to HD as quantity completed values.
The link can support an unlimited number of jobs which can transfer data unattended on a scheduled basis or on demand at any time. Numerous configuration options allow for support of such things as HD PCM tags into TimeControl user defined fields and much much more.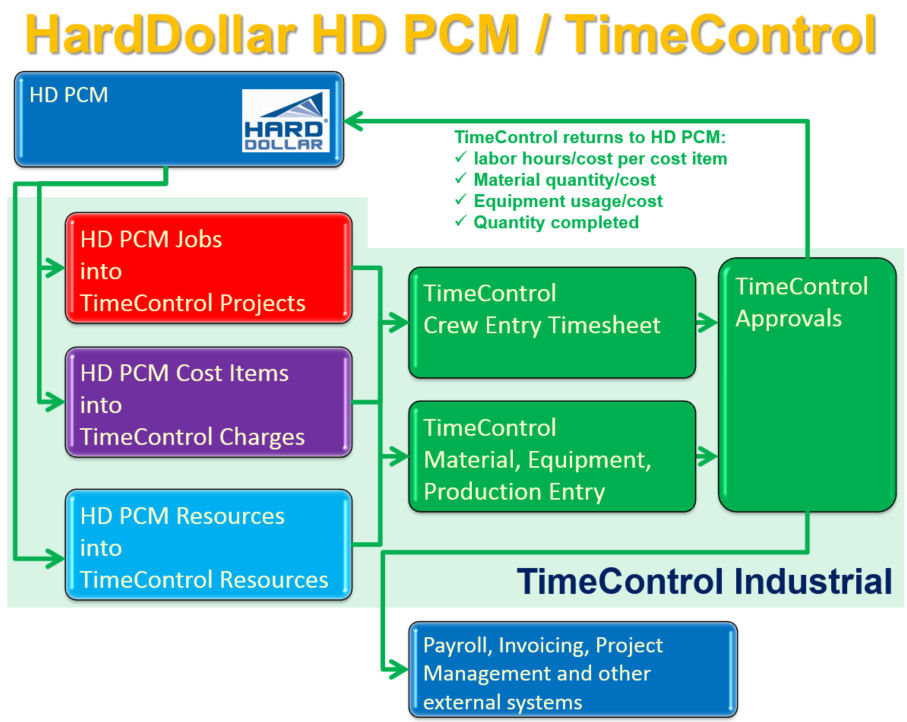 Using TimeControl Industrial with Hard Dollar's HD PCM provides some specific benefits for Hard Dollar clients including:
Support Back office timesheet and Field Data collection from the same system
TimeControl Industrial includes support both for back-office staff to do their timesheets and for field data collection at the same time in the same centralized database.
Crew Timesheets
TimeControl Industrial's Crew Entry interface allows crews to be defined and then their time entered for the entire crew at once. Blank timesheets can be carried by the foreman or supervisor and the timesheet for the entire crew is entered at one time. The Crew Entry timesheet can be done each day, each shift or for a whole week at a time.
Track Material consumption, Equipment usage and Production Accomplished
TimeControl Industrial includes a Material / Equipment / Production entry module. When working in an industrial situation there is more than just labor data to collect. This module allows entries of resources such as materials, equipment, rentals, costs or production values to be entered and tracked. TimeControl Industrial includes specific rates for non-labor entries and a non-labor resource type to track any type of resource, not just hours.
And more...
Other key functions already in TimeControl Industrial that are often requested by Hard Dollar clients include: Task assignments for employees, capture of time-in and time-out by crew or individual, diary entry for weather, safety etc, unlimited rate codes for regular time, overtime double time etc., the ability to associate rates to individuals, payroll validation rules on the crew timesheet, multiple levels of approval, plus line-item approval for billing/project management, exception reports for missing timesheets etc., custom report writing and security at the record and field level.
Related Content