The TimeControl Mobile App
The TimeControl Mobile App delivers TimeControl right to your SmartPhone or Tablet so you can update your timesheet on the go.
The TimeControl Mobile App brings the power and flexibility of TimeControl right to your side. Whether you're using an Android or iOS Apple phone or tablet, the TimeControl Mobile App is ready when you are.
The TimeControl Mobile App connects directly to your TimeControl system. All your timesheet configuration, data selections and customizations are all already there so what appears on your screen matches what you would see on a full browser when connecting to TimeControl. You log in with the same credentials you use for TimeControl and you can now create a new timesheet, update one in progress, or complete your week and release your timesheet. If you are a supervisor, you can do your approvals right from your phone or tablet! All of TimeControl's configuration features like Automated Validation Rules and security are already a part of the TimeControl Mobile App as it is all part of your central TimeControl system.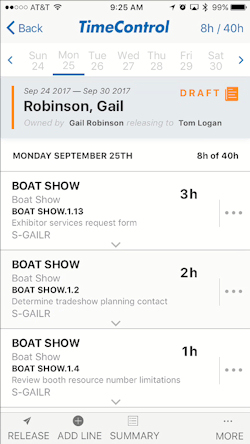 TimeControl Mobile on a SmartPhone or Tablet
TimeControl supports both Android and Apple (iOS) phones. The screen functionality is highly responsive and will adjust to the resolution available to it in both portrait and landscape modes.
TimeControl Mobile Communications are Safe and Secure
The TimeControl Mobile App uses the same communications protocol we use for the regular TimeControl site. If you are using TimeControl Online this is already secured through the Secure Socket Layer (SSL). If you have deployed TimeControl on premise, you can do the same so your data is completely safe even while sending it from your phone.
Timesheet entry
The TimeControl Mobile App includes several interfaces for viewing and updating your timesheet data. You can view current and past timesheets, create a draft timesheet and add projects and charges from the selections that are available to you and a simple tap on the hours lets you update hours and minutes in an instant. The TimeControl Mobile App supports the same timesheet durations as TimeControl so whether you are working in weekly, bi-weekly, bi-monthly, monthly or custom periods, the date range at the top of the screen lets you scroll to the relevant day and date and update the information you need. Seeing secondary fields lets you update additional user-defined fields and you can also update notes right inside the app.
Approvals
Even Supervisors can use the TimeControl Mobile App for approvals. The TimeControl List is right there and Supervisors can review, approve, or reject a timesheet. If they have the appropriate rights, they can add additional lines to it while the timesheet is in their control. Automated Validation Rules work just as they do in the full-sized web version. If a user tries to release a timesheet that doesn't follow one of the timesheet business rules defined in TimeControl, then the user is immediately prompted with the error and asked to correct it.
Administrators can elect to restrict access to the TimeContol Mobile App if they choose. This can be set up for all users or just selected users depending as is required.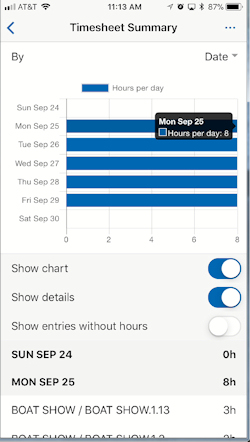 Reporting
TimeControl Mobile Views can give managers decision making power right from the App. Views can include a multitude of types including pie charts, bar charts, histograms and even radar reports. Views are visible on any tablet devices or phone devices that the free TimeControl Mobile App supports. The view will adjust itself to the screen real estate available to it. Unusual level of functionality takes the concept of a timesheet app out of the realm of just data collection and brings the potential of up to date data to the hands of managers who might need to make certain decisions without having to go to reporting in the full-screen system in a browser.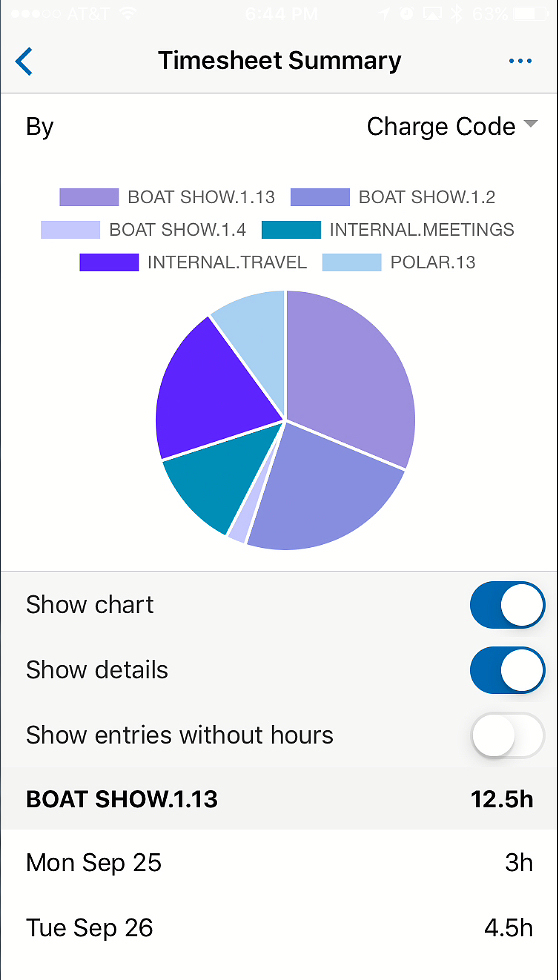 Crew Timesheets for TimeControl Industrial
The TimeControl Mobile App includes functionality for not just regular timesheets and regular timesheet approvals. If you are using TimeControl Industrial, you can create, edit and release Crew Timesheets as well. The app works with both phone and tablet sized screens so supervisors can easily see their crews, adjust who is on the crew and then do field data collection right on the app. The TimeControl Mobile app is designed to continue to function even if Internet connectivity is lost so Crew Timesheets that are being edited in remote regions can continue to be edited and TimeControl will automatically sync the Mobile App once it is back in connection range.
Mobile Materials for TimeControl Industrial
The TimeControl Mobile App includes functionality to add non-labor data collected from the field. For clients of TimeControl Industrial, this brings your field data collection to a whole new level. Now Material Consumption, Equipment Usage and Production Accomplished can be entered right on your Mobile Device wherever you are. The Mobile Materials module allows for new Mobile Entries to be created with an unlimited number of line items, each associated to a Charge Code. Existing Mobile Entries, created with a full screen browser can be edited by the Mobile App as well or Mobile Entries started on Mobile can be edited in a web browser. Approvals can also be done right on the App.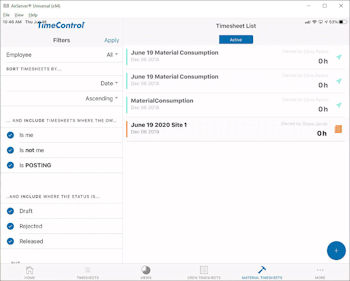 Already Localized
The TimeControl Mobile App is already taking advantage of TimeControl's multi-lingual environment. If the text on your regular TimeControl application is in a language other than English, then so is your Mobile App!
No Additional Cost
The TimeControl Mobile App functions with all versions of TimeControl, TimeControl Industrial and TimeControl Online as of version 7.2. Check the TimeControl Reference Guide for instructions on making sure the TimeControl Services that the App requires are turned on for your system and for each user profile.
Download it now
The TimeControl Mobile App is free and available from Google Play for Android devices and the Apple App store for iOS devices. Just search for "TimeControl Mobile" or, if you are on your mobile device right now, select:
Google Play

Apple App Store
Related Content