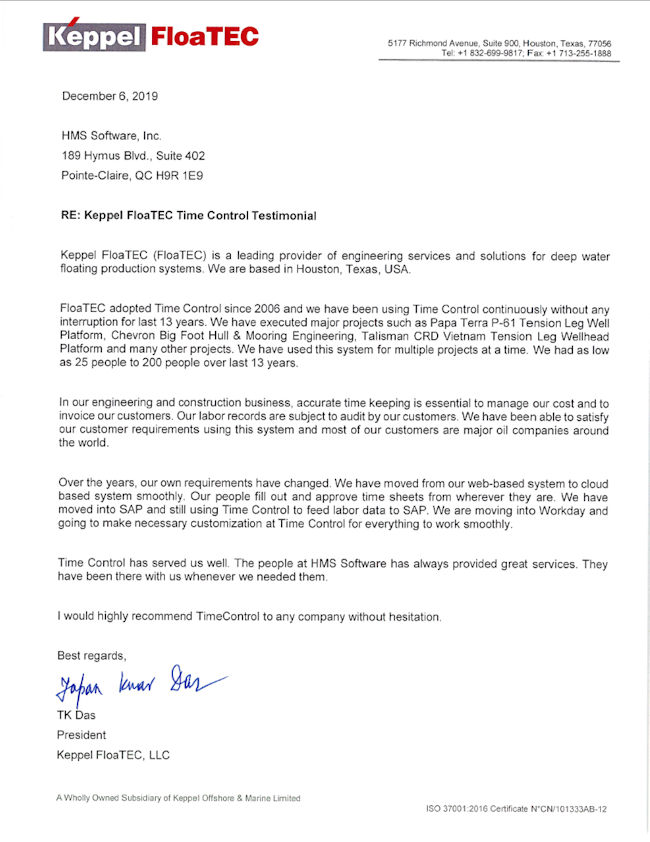 ---
Keppel FloaTEC
5177 Richmond Avenue, Suite 900, Houston, Texas, 77056
Tel: +1 832-699-9817; Fax: +1 713-255-1888
December 6, 2019
RE: Keppel FloaTECTimeControl Testimonial
Keppel FloaTEC (FloaTEC) is a leading provider of engineering services and solutions for deep water floating production systems. We are based in Houston, Texas, USA.
FloaTEC adopted TimeControl since 2006 and we have been using TimeControl continuously without any interruption for last 13 years. We have executed major projects such as Papa Terra P-61 Tension Leg Well Platform, Chevron Big Foot Hull & Mooring Engineering, Talisman CRD Vietnam Tension Leg Wellhead Platform and many other projects. We have used this system for multiple projects at a time. We had as low as 25 people to 200 people over last 13 years.
In our engineering and construction business, accurate time keeping is essential to manage our cost and to invoice our customers. Our labor records are subject to audit by our customers. We have been able to satisfy our customer requirements using this system and most of our customers are major oil companies around the world.
Over the years, our own requirements have changed. We have moved from our web-based system to cloud based system smoothly. Our people fill out and approve time sheets from wherever they are. We have moved into SAP and still usingTimeControl to feed labor data to SAP. We are moving into Workday and going to make necessary customization atTimeControl for everything to work smoothly.
TimeControl has served us well. The people at HMS Software has always provided great services. They have been there with us whenever we needed them.
I would highly recommend TimeControl to any company without hesitation.
Best Regards,
TK Das
President
Keppel FloaTEC LLC
A Wholly Owned Subsidiary of Keppel Offshore & Marine Limited