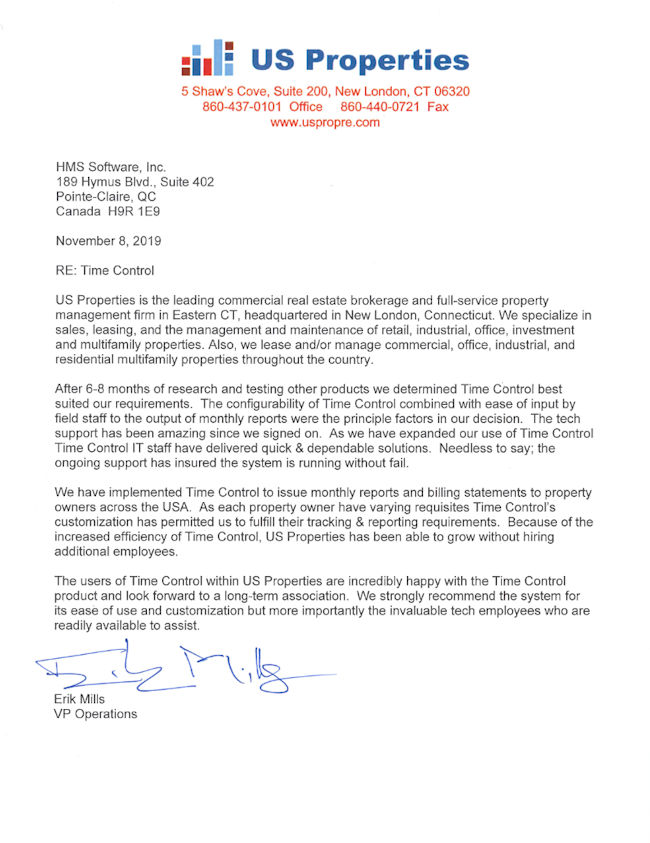 ---
US Properties
5 Shaw's Cove, Suite 200, New London, CT 06320
860-437-0101 Office 860-440-0721 www.uspropre.com
HMS Software
189 Hymus Blvd., Suite 402
Pointe-Claire, QC, Canada H9R 1E9
November 8, 2019
RE: TimeControl
US Properties is the leading commercial real estate brokerage and full-service property management firm in Eastern CT, headquartered in New London, Connecticut. We specialize in sales, leasing, and the management and maintenance of retail, industrial, office, investment and multifamily properties. Also, we lease and/or manage commercial, office, industrial, and residential multifamily properties throughout the country.
After 6-8 months of research and testing other products we determined TimeControl best suited our requirements. The configurability of Time Control combined with ease of input by field staff to the output of monthly reports were the principle factors in our decision. The tech support has been amazing since we signed on. As we have expanded our use of TimeControl, IT staff have delivered quick & dependable solutions. Needless to say; the ongoing support has insured the system is running without fail.
We have implemented TimeControl to issue monthly reports and billing statements to property owners across the USA. As each property owner have varying requisites TimeControl's customization has permitted us to fulfill their tracking & reporting requirements. Because of the increased efficiency of Time Control, US Properties has been able to grow without hiring additional employees.
The users of Time Control within US Properties are incredibly happy with the Time Control product and look forward to a long-term association. We strongly recommend the system for its ease of use and customization but more importantly the invaluable tech employees who are readily available to assist.
Erik Mills
VP Operations