features What's New in TimeControl Version 8.1?

TimeControl and TimeControl Industrial version 8.1 are a major update to the TimeControl 8 family of editions with significant new and enhanced features.
Here is more detail on the new and enhanced features in this version:
Mobile Materials
For TimeControl Industrial Users, the free TimeControl Mobile App contains a whole new module. Non-labor entries can now be done in the mobile app. This allows material consumption, equipment usage and production accomplished to be entered right in the field while doing Crew Entry for Labor collection. This new module allows the TimeControl Material Creation of new Entries, editing of existing entries and approvals right in the mobile device. The free TimeControl Mobile App is available on Google Play for Android devices and the Apple Store for iOS devices.
Enhanced System Preferences
We've added a number of new controls in the System Preferences area which are used for performance enhancement or for customizing the view of TimeControl. We've also moved several remaining configuration items from the .INI file to System Preferences or the User Profiles so that TimeControl Online Administrators can take advantage of them as easily as TimeControl on-premise clients.
Enhanced Calendar View
This version of TimeControl includes a much-enhanced Calendar View as TimeControl shifts into more functionality for project planning and control. The Calendar View now uses screen real estate much more efficiently and the height of rows can increase, allowing for multiple tasks per row. Also, items which span more than one day are now made into a longer bar.
Integration with Project for the Web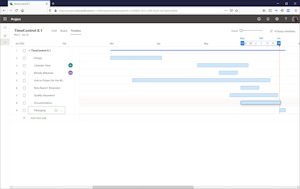 TimeControl has included integration with every version of Microsoft Project since 1995 and we're not about to stop now. Microsoft's newest addition to the Project Family is called Project for the Web or "The New Microsoft Project" (in licensing terms, Project Plan 1). This version of TimeControl has import only integration with Project for the Web (Microsoft doesn't yet support sending data back to the product.
New Report Templates
We have added numerous new report template formats and reviewed some existing ones. There are about a dozen new reports to try including Time and Materials Reports for TimeControl Industrial and other reports in Pivot Grid formats. Here are just a few examples:
And...
There's so much more. Improved error handling, performance increases and useability enhancements across the system.
How to upgrade
If you have a current service agreement for TimeControl you can download the new version on the support/updates page. For more information on the latest TimeControl features or our upgrade services, please fill in a contact request at email info@hms.ca or call +1 514 695-8122.
TimeControl Online users will be updated automatically in the coming weeks.